iMAC vs HP All-in-One TouchSmart PC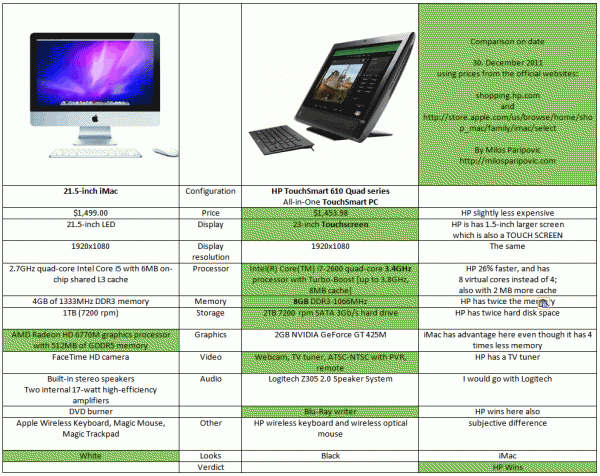 Yesterday my wife and I were in a computer store and she immediately noticed an iMac so I had to explain some things to her.
I made a quick comparison of 21.5-inch iMac with HP TouchSmart 610 Quad series All-in-One TouchSmart PC by looking for a HP device with the same price as iMac. All prices are from 30. December 2011. and from official websites.
(Click on the image to enlarge)
My conclusion is:
Even though iMac looks better and has a better graphic card, HP has larger screen which is also a touchscreen. TouchSmart also has 26% percent higher processor clock, and 4 additional virtual cores which in serious rendering applications brings additional 20% higher speeds. HP also leads with twice of both the memory and hard disk space… and has a TV tuner! I would definitely go with HP TouchSmart.
June 4th UPDATE:
If you buy a HP with Windows 7 in the next months before the official Windows 8 release, you will be able to upgrade to Windows 8 for $15, and get full power of a touchscreen interface built in Windows 8. If you can not wait that long, you can download Windows 8 release preview for a free right now (preview version will deactivate in January 2013).